5 interesting facts about James – your chimney sweep!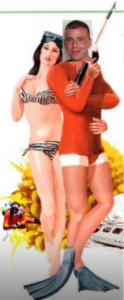 James the Sweep – the Master Chimney Sweep for Tunbridge Wells and nearby areas such as Tonbridge and Southborough. You've heard about him often enough and he is a well-known friendly face for many people across towns and villages in the county of Kent (and nearby East Sussex, for that matter).
James has been sweeping chimneys for Kentish homes and local business premises for more than 20 years. He's had a very colourful life too and below you will find 5 very interesting facts that you didn't know about James Hughes aka James the Sweep.
Prison Officer: James previously worked – many, many years ago – as a prisoner officer. He spent time inside (as an officer, not a prisoner!) HMP Rochester as well as HMP Blantyre House near Goudhurst, which has closed for works. James especially enjoyed the football matches between officers and jailbirds, which were very noisy and fun affairs!
Scuba Diver: James is a qualified scuba diver and he has particularly spent a lot of time diving on the island of Malta. He was also once called upon by police to help search the River Thames for a missing person!
Hairdresser: If you are wondering why James is so skillful with a chimney brush it may be because he once worked as a hairdresser. He gained a City & Guilds qualification at the London College of Fashion in Oxford Street and then worked for various salons in the area of Tunbridge Wells.  
Mugged by police: An interesting but sad fact. James was once mugged by police at gunpoint in Ukraine. It happened in 2014 when James visited Chernobyl. He was pulled into an alleyway, had a gun held against him and the corrupt policemen stole a new iphone, £1,000 sterling and 200 Hryvnia (the Ukrainian currency).
Tsunami: James was once helping to protect a sheikh in Dubai as part of security work. The year was 2004 – when the famous Tsunami caused mayhem in Thailand. James was asked to search the island of Ko Phi Phi Le (where 'The Beach' with Leonardo DiCaprio was filmed). His task was to find a secretary working for Pirelli Tyres, who had tragically gone missing. For three weeks, James and colleagues painstakingly looked and eventually found the luggage of the missing lady and her husband – but that was all.  James found the experience in Thailand extremely gruelling and poignant.