Chimney sweeping using an industrial HEPA chimney sweep hoover for a cleaner sweep
Professional chimney sweeping with a HEPA chimney sweep vacuum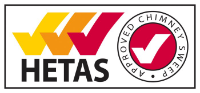 Providing great customer care is one of my top priorities, that's why I use a HEPA industrial chimney sweep vacuum when I sweep. As a member of the Guild of Master chimney Sweeps, I have been cleaning chimneys in Kent and East Sussex for over 20 years. I have many clients in Tunbridge Wells, Tonbridge, Sevenoaks, Crowborough, Hadlow, Pembury, Paddock wood, Maidstone and Orpington.
If you live in the Kent or East Sussex area and need a professional chimney sweep, give me, James the sweep a call on 07587 134589.
Find out what's included in the standard £60 chimney sweeping service.
What is a HEPA chimney sweep hoover?
The term HEPA stands for 'high-efficiency particulate air' and any machine using a HEPA filter catches 99.97% of particles. A standard hoover only collects 96% of particles. HEPA filters are great at collecting much finer airborne particles like ash and soot because they don't use fine mesh filters but electrostatic attraction. It basically forces the particles to become attracted to the material. Sticking to the filter in a similar way to static cling when fine plastic clings to your hand. The upshot is, less soot particles floating around in the air and covering soft furnishings at the end of a sweep.
Can I Hoover ash from a fireplace?
Yes, but not with a traditional vacuum cleaner. Not unless you want to ruin your vacuum cleaner and put your family in danger!
As mentioned above ash and soot particles are finer than a grain of sand and can't be hoovered up adequately by a traditional hoover. They just end up floating in the air throughout your home being breathed in by your family. These particles can get into every aspect of the vacuum cleaner causing considerable damage. There is also the chance that some of the ash at the bottom of the pile may still be very hot when hoovered up potentially setting the vacuum on fire. A HEPA chimney sweep hoover is made of metal and not plastic to stop this from happening. To hoover up ash and soot you need a specialist ash vacuum with a HEPA filter.
How do you vacuum a chimney?
First you need the correct equipment for the job, a HEPA filter chimney sweep hoover. It's not like using a traditional hoover. It does not move back and for or go up and down the chimney to remove chimney debris. It stays in one place and its primary function is to catch the soot particles and stop the soot and ash plume from coming out into the room.
I start by covering the surrounding area with fresh dust sheets. This ensures that no ash or soot can escape and damage furniture after the sweep when I remove my equipment. Then I cover the entrance to the open fireplace or stove with either a dust sheet or plastic. I make sure there is an opening for the vacuum cleaner to go through and the chimney brush. The chimney sweep brush goes up the chimney and I rotate it to sweep the debris down, adding more rods as I work the brush higher up the chimney. The hoover runs continuously while I sweep catching small debris and soot particles from the sweep, job done.
For more information on how I sweep a chimney and what's included in my £60 chimney sweep visit my chimney sweeping page.
Chimney sweeping customer care
I pride myself on working methodically and leaving customer's homes in a clean condition. I have been sweeping chimneys in the Tunbridge Wells area for more than 20 years and my customers appreciate the care and effort I put into chimney sweeping appointments – no mess, no fuss!
For chimney care advice, peace of mind, a room that is left in perfect condition and a chimney ready for a roaring fire call me, James the sweep on 07587 134589.
Further information on a chimney Sweeping
Here are some more links you may find useful regarding chimney sweeping.