Chimney sweeping services – Tunbridge Wells, Tonbridge, Crowborough and Sevenoaks
Master chimney sweep – Tunbridge Wells, Tonbridge, Crowborough and Sevenoaks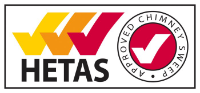 For the past 20 years I have been chimney sweeping and providing chimney cleaning advice for my clients in Kent and East Sussex. I am a fully qualified HETAS approved chimney sweep and member of the guild of master sweeps. I have many happy clients in Tunbridge Wells, Tonbridge, Sevenoaks, Crowborough, Hadlow, Pembury, Paddock wood, Maidstone and Orpington.
If you live in the Kent or East Sussex area and need a professional chimney sweep, call me, James the sweep on 07587 134589.
How much does it cost to have your chimney swept?
As a HETAS approved chimney sweep I charge £60 for a standard sweep for a wood burner or open fire.
I am licensed and insured to sweep all kinds of chimneys, flues, fireplaces and stoves including:-
Aga flues
Multi fuel stoves
Jetmaster fire
Rayburn
Inglenook
Parkray
Gas Fire
Oil Fired Boiler
Chimney sweep offer for multiple chimneys
As well as sweeping homes around Tunbridge Wells, I also sweep other larger residences, such as Knole Estate and Hever Castle, one of which has 50 chimneys. For properties with multiple chimneys, I offer a discount.
Do you have a house or estate with multiple chimneys that need sweeping? Call me, James the sweep for your special offer today 07587 134589.
What's included in a chimney sweeping?
Clean dust sheets.
A chimney safety inspection.
A fire and CO risk assessment.
A chimney smoke test.
Your chimney swept with a professional chimney sweep brush set.
A HEPA filter Industrial chimney sweep vacuum.
The issuing of an official Certificate of Chimney Sweeping after the sweep. This can be used for insurance purposes.
Professional advice on chimney care and maintenance.
What happens if you don't sweep your chimney?
When a chimney works well, it draws down oxygen to feed the fire and draws away the smoke and harmful carbon monoxide chemicals to keep you safe. A clean and clear chimney produces a lovely roaring fire with no smoke. After a season of heavy use, the chimney naturally starts to build up a coating of creosote and other debris along the insides of the chimney and flue. Come spring you may even find yourselves with an unwanted feathery guest in there as well.
With all this detritus in your chimney, it just can't function properly. It produces a poor fire which may even go out altogether. Without a sweeping, the lining of the chimney may become damaged and start to leak deadly toxic carbon monoxide gas into your living space. With a blocked chimney the smoke can roll back down the chimney, filling the room. In the worst-case scenario, if there is a lot of creosote build-up on the chimney wall, it may even catch alight causing a chimney fire, creating untold damage to the chimney and your property. According to HETAS, each year nearly 7 thousand houses across the UK have chimney fires; most of these are preventable.
The upshot is, without regular chimney cleaning, your chimney could end up costing you a lot of money or even your life.
If you need some advice about your chimney or a chimney sweep, call me, James the sweep today 07587 134589
When should you sweep a chimney?
The industry standard for chimney sweeping is HETAS and they recommend that you should have your chimney swept twice a year if you burn wood or house coal and once a year for smokeless fuels. Ideally you should have a sweep before you start using your stove or fire for the winter. For more information on chimney sweeping visit the HETAS website. My busiest time of the year is September to January for sweeping, as the weather turns colder homeowners start to light their fires again.
How do you prepare for a chimney sweep?
There are a few things that you can do to prepare, prior to a chimney sweeping:
Ensure the space around the fire is as clear as possible for me to work. For example, remove any encroaching furniture or valuables from the fireplace area.
You can light a fire the night before a sweep, but please make sure the fireplace is cold before the sweep appointment. I cannot sweep a chimney that is hot.
Boilers, Agas and Rayburns must be turned off or put out at least 24 hours before the sweeping appointment.
Empty the ash from the fire and remove any logs still there.
Make an electrical socket available for me to use.
Make the route to the fireplace from the outside clear.
Open a few windows for ventilation because of Covid-19.
Socially distance while I am in your house.
Use cash or a cheque (no cards) for payment. Please note: bank transfers are not accepted.
How long does it take to sweep a chimney?
An average chimney sweeping takes between 30 and 60 minutes to complete depending on:-
The chimney's condition.
When it was last swept.
If there are any blockages.
The size and the complexity of the chimney setup.
How to sweep a chimney?
When I arrive, I usually ask you about your chimney, whether you have any problems you want to discuss.
Before starting, I lay clean dust sheets on the hearth and surrounding areas to protect your carpets and furnishings.
The next step is to carry out a risk assessment of your wood-burner, open fire, gas stove or other appliance. If needed, a CCTV chimney inspection can also be carried out.
To make sure there are no problems with the draught of the indoor fire, a chimney smoke test is carried out.
As part of my safety check of the chimney flue, I study the flue structure and liner for any problems.
Whenever I sweep I always use a HEPA filter industrial chimney sweep hoover to collect soot particles.
For sweeping most chimneys I use a combination of standard manual rods and chimney brushes. For some chimney types I use power sweeping tools. I prefer Tamar brushes and Rodtech branded sweeping equipment, which are trusted across the wider solid fuel industry.
All flammable soot blockages are cleared away from your chimney walls.
I always leave a customer's home in a clean condition.
When your chimney has been swept, I will issue you with a Certificate of Chimney sweeping. For a step-by-step guide on chimney cleaning visit my how to sweep your chimney page.
Repeat customers can book a chimney sweeping in advance. All repeat customers receive a text or a call to remind them about their sweep before the sweeping date.
When can I book a sweep?
I work 6 days a week Monday to Saturday, from 9 am until 5 pm. A sweep slot is usually around 1 hour long, so on average I do between 5 and 7 sweeps a day.
To book a sweep or get chimney sweep advice call me, James the Sweep on 07587 134589.
What if I have a bird's nest in my chimney?
If upon inspection it turns out that you had some unexpected flying visitors during the summer. To remove a bird's nest from your chimney I charge £100 for the first hour and £60 for any additional hours. Depending on the size of the nest the removal can take several hours. Find out more about bird's nest removal from your chimney.
To book a sweep or ask a question contact me, James the chimney sweep on 07587 134589.
Further information on chimney sweeping
Here are some more links you may find useful regarding chimney sweeping.