HETAS approved Master Chimney sweep - Hadlow, Kent, TN11
My chimney cleaning services in Hadlow
Chimney cleaning in Hadlow
I charge £60 for a standard brush sweep for a wood burner or open fire. This chimney cleaning price includes the full chimney sweep, the fire and CO risk assessment, a chimney smoke test and an official Certificate of Chimney Sweeping useful for household insurance.
I am licensed and insured to sweep all kinds of chimneys, flues fireplaces and stoves. This includes Aga flues, Multi fuel stoves, Jetmaster fire, Rayburn, Inglenook, Parkray, Gas Fire and Oil Fired Boilers.
Bird nest removal in Hadlow
I charge £100 for the first hour of work and then £60 per hour after that if the job is particularly complicated. Please note that the bird's nest is always left with the householder for disposal.
CCTV chimney inspection in Hadlow
I charge £60 for a sweep (which must be conducted before the inspection) and £100 for a chimney inspection. If you have any worries about using your solid fuel appliance or open fire you should get a CCTV chimney inspection from a qualified chimney sweep.
A chimney sweep hoover is used as standard with every sweep
During my standard £60 sweep I use a HEPA filter chimney sweep vacuum to make sure no soot and ash particles escape into your home.
A chimney sweep certificate issued with every sweep
Whenever I conduct a sweep in Hadlow, I always provide the householder with an official, Certificate of Chimney Sweeping. This indicates that a sweep has been conducted to the Guild of Master Chimney Sweeps industry standard and can be used for household insurance purposes.
Chimney cowls, chimney pots and chimney guards
I advise clients in Hadlow about what type and what size chimney cowl, pot or guard will best suit their fire setup. Due to health and safety issues, I do not fit chimney cowls, pots or guards myself. I arrange fitting with my trusted colleagues who do an excellent job of installation for my clients.
If you have any questions about chimney sweeping or chimney care, I would love to hear from you. Call me on 07587 134589 today.
I also sweep in the following areas near Hadlow
About Hadlow
Hadlow
Hadlow is a charming village located near Tonbridge in the county of Kent. The etymological origin of Hadlow lies in Anglo Saxon 'Haeseholte' and there was a settlement in the Stone Age era. Hadlow is now lined up in the Tonbridge and Malling District. The manor of Hadlow, Court Lodge, is a prominent building, which was looked after by the Knights Hospitaliers during the Middle Ages. The estate has subsequently been passed through the hands of various noblemen. There was a new manor built there in 1635. In the present day, the manor is a Grade One listed building and noted on the 1998 World Monuments World Watch List of Most Endangered Sites. Hadlow has other remarkable buildings, including two inns, which hail from the Tudor period. The River Bourne is also very much evident, marking a route through the parish. Residents in Hadlow enjoy their community and support the ancient cricket club and amateur dramatic society.
Hadlow College is a wonderful educational facility in Hadlow, which was founded in 1960. Courses range from foundation level right up to full honours degrees and apprenticeships, which are land-based. There are other part time and leisurely courses too for adults. Subjects range from animal behaviour to tractor driving and there is a garden centre on the site, known as Broadview, which is open to visitors. The gardens at Hadlow College are open to the public and free to visit, with a specialism in hellebores, usually blossoming in the months of January and February.
Residents known to be famous in Hadlow include the wordsmith who imported the printing press to England – William Caxton who died in 1491. Rumour has it that he was born in the village. Sports champs cricketer John Larkin (born 1726) and Allison Fisher, snooker ace, both grew up in the locality. Computer games guru Stephen Crow was also born there – in 1965. Artist Bernard Hailstone (died 1987) helped save Hadlow Castle from demolition. He was a popular face in the local community. The lay rector of Hadlow was at one time also the former Lord Mayor of London – John Rivers, who died in 1584. People interested in the history of Hadlow are recommended to peruse the fascinating books about the village penned by historian Joan Thirsk, who died in 2013.
Looking for a chimney sweep in Hadlow? James the Chimney Sweep is available in Hadlow and surrounding areas.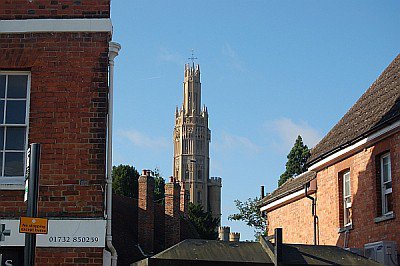 James the Chimney Sweep, working in and around Hadlow
If you live in Hadlow and you require the services of a qualified chimney sweep, then I believe I can help you!  I have over 22 years' worth of experience under my belt and I am a HETAS registered chimney sweep and installer. Many owners of chimneys and flues in Hadlow and the surrounding areas are happy to say that they can proudly boast a clean and well-functioning stove/fireplace as the result of my handiwork!  Here are just a few of the services I can offer you as a professional chimney sweep:
Chimney sweeping
Removal of birds nests and debris from chimneys
Advice on purchasing the right appliance for your heating needs, (i.e wood burning, multi fuel stoves etc)
Advice on general maintenance and upkeep of your chimney, flue, fire place or stove
Installation of flues
….. and many more services to boot!  Just ask the chimney owners of Hadlow who are familiar with my work, and they'll be able to rattle off several ways I have been able to help them.  You'd be surprised to discover just how much a chimney sweep can do!
I am also aware that there are several types of heating appliance on offer in Hadlow, from Agas to Jetmasters, and to those unfamiliar with running a working chimney, the choices can be mind boggling.  I am always on hand for friendly and professional advice.
So.  That's enough of an introduction, I think!  If you live in Hadlow , I'm never far away!  Give me, James The Chimney Sweep a call!  My contacts area available from the "contact" area of this website.  I look forward to hearing from you.
–  James The Chimney Sweep