Chimney cowls, chimney pots and chimney bird guards advice and fitting – Tunbridge Wells, Crowborough and Tonbridge
HETAS approved master chimney sweep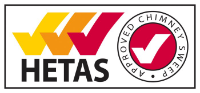 I am a member of the Guild of Master Sweeps and a HETAS approved chimney sweep. I have many customers in Tunbridge Wells, Tonbridge, Sevenoaks and Crowborough. For the past 20 years I have been advising and coordinating the fitting of chimney cowls, chimney pots and chimney bird guards for my clients.
If you live in the Kent area and need professional advice on chimney pots, cowls or guards, give me, James the sweep a call on 07587 134589.
Chimney cleaning
In order to advise clients on what type of chimney pot, cowl or guard best fits their chimney set up, I need the chimney and flu to be completely clear of any debris. So, in other words, I need to sweep the chimney and flue first. When these are clean, I can inspect the chimney and flue and decide what type of pot, cowl or guard would fit best.
Find out what's included in my standard £60 chimney sweeping service.
What is a chimney cowl?
A chimney cowl is a metal cover with holes that is secured to the top of the chimney pot to help ventilate a solid fuel stove. The chimney cowl is designed to help your fire burn more efficiently by eliminating any downdraft. Chimney cowls also prevent harmful carbon monoxide fumes from coming back down the chimney. There are numerous chimney cowl types to choose from. Some styles enhance stove performance, keep rain and hail out, some increase updraft and others stop birds and squirrels from nesting in the chimney. With all this choice, it is very important to get professional advice before buying one.
A chimney cowl is a must for an effective working stove. For advice on what chimney cowl best suits your needs contact me, James the sweep today 07587 134589.
What is a chimney pot?
A chimney pot is an extra piece of chimney, made from terracotta, added to the top of the existing chimney stack which extends the chimney's height. You may have seen the red clay pots while out and about. They can be either round or square and come in numerous different aesthetic styles. Their purpose is to increase the air drawn up by the chimney reducing soot and fumes. They also keep rain and hail from entering the chimney which can rust your stove and cause damp.
What is a chimney bird guard?
A chimney bird guard also known as a chimney bird cover, is similar to a chimney cowl. They have a flat or domed top with a space underneath covered by a grill and they can be round or square. They are designed to allow air in and smoke out, while also keeping birds and squirrels out. There are numerous different types of bird guard to choose from. They can be made of terracotta, metal or plastic. You can even get a spinning metal one. The type you need fitted will depend on your chimney's dimensions and style.
For advice on chimney bird guards or bird nest removals, contact me James the sweep today 07587 134589.
What is capping a chimney?
If your fireplace has been disconnected and bricked up, you will likely have a chimney cap at the top of your chimney. The cap is a flat top that seals off the chimney pot completely. It has no air holes or openings because you no longer need them for a stove or fire.
Be wary of buying a new house with a bricked-up fireplace and no chimney cap only a bird guard. If birds get past the guard, which happens if it's old and rusty, they will build a nest. The only way to clear out the nest then is to sweep the chimney from below, which means unbricking the fireplace.
Broken or damaged chimney cowls, chimney pots and chimney bird guards
A damaged or broken chimney cowl can severely affect the performance of your fire or solid fuel stove. A chimney cowl, pot or guard needs to be replaced if it:
Has large cracks.
Is showing severe weather wear signs.
Has a broken bird cage on the top.
Is poorly fitted with the wrong size and shape of cowl, pot or guard for the chimney.
Can I fit my own chimney pot, cowl or bird guard?
No. Please don't do this. To fit these correctly you need to go up onto your roof, which requires a specialist roof ladder. For anyone not accustomed to going up ladders and onto roof spaces this is extremely dangerous. A cowl, pot or guard needs to be sized and fitted properly. If fitted incorrectly it could cause dangerous carbon monoxide gas to build up in your home, creating a serious risk to your family's health. Properly sizing and fitting chimney cowls, pots or bird guards is an expert job that requires technical skill and knowledge and should only be undertaken by a qualified person.
Can a chimney sweep fit a cowl?
Due to health and safety issues, I do not actually fit chimney cowls, pots or guards myself. I have some trusted colleagues who do an excellent job of fitting these for my clients.
What type of chimney cowl do I need?
Choosing the correct chimney cowl, pot or guard is dependent on the type of chimney you have. When selecting one I take into account:
What type of stove or open fire you have?
The condition your flue and flue liner?
What type of fuel you use?
The type of roof material you have.
Your chimneys position, is there any nearby structure which may affect it?
What your internal and external chimney dimensions are?
If your chimney complies with building regulations?
What type of chimney pot, cowl or bird guard would fit your chimney?
After I sweep your chimney, I can advise you on what type of chimney cowl, pot or bird guard would best suit your chimney setup and how much it will cost. If you are happy to proceed, I will arrange a date for the chimney cowl, chimney pot or chimney bird guard fitting.
For advice on all aspects of chimney care contact me, James the sweep on 07587 134589.
Further information on cowls, pots and guards
Here are some more links you may find useful regarding chimney cowls, pots and guards.
To book a chimney consultation or get some free chimney care advice contact James today on 07587 134589.