A CCTV chimney inspection and your chimney swept – Tunbridge Wells and Crowborough
CCTV chimney inspection by a HETAS approved chimney sweep.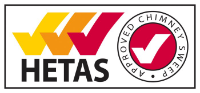 As a member of the Guild of Master Chimney Sweeps and a HETAS approved chimney sweep, your chimney is in good hands with me. I Have over 20 years' experience in the industry. Sweeping chimneys and conducting CCTV chimney inspections for clients throughout Tunbridge Wells, Tonbridge, Sevenoaks, Crowborough, Hadlow, Pembury, Paddock wood, Maidstone and Orpington in Kent.
If you need your flue, chimney or solid fuel appliance checked call me, James the sweep on 07587 134589.
Should I have my chimney inspected?
If you are asking this question you probably have some doubts about using your solid fuel appliance or open fire. If you suspect your chimney needs sweeping or you have a bird's nest in there, you should get it checked out by a qualified chimney sweep immediately. The implications for you and your family are far reaching. Continuous use of an appliance or open fire without adequate servicing causes serious problems. If your chimney becomes blocked or damaged, harmful poisonous gas known as carbon monoxide can leak into your home. Creosote build up along the inside of the chimney can actually catch fire causing damage to your property.
If you have just moved into a new home and are not sure about your fire set up, you should get a sweep and inspection from a professional chimney sweep before lighting a fire or using an appliance.
5 Signs that you need a chimney inspection
If a chimney isn't swept regularly it can lead to all manner of issues ranging from life threatening to just annoying.
Here are some real customer issues I have dealt with in the past:
The smoke from my fire is coming out into the room.
Our lounge fire is burning poorly or keeps going out.
The carbon monoxide alarm has gone off.
My chimney caught on fire.
There are chirping noises coming from the chimney.
If any of this sounds familiar, then you may have a problem. The good news is a basic sweep could probably fix all your issues.
What is a chimney inspection?
It's hard to know what exactly is going on inside a chimney. The only true way to know for sure, is to actually look up the chimney. In the past this would have involved someone going into the chimney space. Fortunately today, with the advancement of technology I can now look directly up and down and around the chimney with a rodded camera known as closed-circuit television (CCTV).
With the camera and light attachment, I can more easily look into all sections of your flue, stove or chimney. All images are then displayed on a portable mini DVR screen for you and I to see.
What is involved in a chimney inspection?
Before conducting your CCTV inspection, I need to visually inspect your hearth, fireplace and chimney. I also need to sweep your chimney, this step is essential for 4 reasons:
It clears the chimney of any debris build-up so I can view the flue and chimney better.
It removes the creosote build-up so I can inspect the chimney and flu walls for damage.
The CCTV pole can move smoothly up the flu and chimney without snagging on anything.
The sweep and subsequent tests carried out at this stage sometimes fixes all issues, making the chimney inspection redundant.
For more information on how I sweep a chimney, visit my sweep page.
I use a Rodtech CCTV camera system for the CCTV chimney inspection. This is highly regarded technology in the chimney sweeping industry. The Rodtech system allows me to fully inspect the chimney, flue and flue liner and spot any problems with soot blockages or structural issues. The camera facilitates a 360-degree view of the flue's interior, easily highlighting any problems. The Rodtech CCTV camera system is designed to get into small spaces without damaging the chimney. If the inspection highlights any chimney issues I will advise you on the best course of action.
For a chimney inspection or advice on chimney care, call me, James the sweep on 07587 134589.
How much does it cost to check a chimney?
I charge £60 for a basic sweep and smoke test, this usually gets rid of most issues. However, if problems persist after testing, then I conduct a CCTV inspection, which costs an additional £100.
5 benefits of a chimney inspection?
Any chimney issues can be easily identified through the CCTV camera system.
CCTV camera system is designed to get into small spaces without damaging the chimney.
Householders can also view the CCTV footage to verify issues.
A CCTV inspection is a quick way to identify problems.
A CCTV inspection produces virtually no mess.
Should I get a chimney inspection before buying a house?
You should always get a chimney inspection from a qualified chimney sweep before buying a new house. Ask the current owners if they have an up-to-date certificate of sweeping and a HETAS certificate for the appliance. If they do not, a sweep and inspection before you complete on your dream home, could end up saving you thousands of pounds in repair work later. Some home insurers require you to have a certificate of chimney sweeping issued by a professionally recognised chimney sweep before insuring your home.
If you have:
Any chimney care questions or need some advice.
A suspicion there is something wrong with your chimney or appliance.
Recently moved into a new home and just want your chimney checked.
Call me, James the sweep on 07587 134589 and I'll be happy to advise you.
Further information on chimney care
Here are some more links you may find useful regarding chimney problems, sweeping and chimney care.