Chimney sweep certificate – Tunbridge Wells, Crowborough
Chimney sweep certificate by HETAS approved chimney sweep – Tunbridge Wells, Crowborough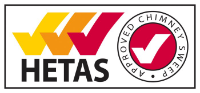 As a professional chimney sweep for over 20 years, I have probably issued thousands of chimney sweep certificates. I have clients in Tunbridge Wells, Tonbridge, Sevenoaks, Crowborough, Hadlow, Pembury, Paddock wood, Maidstone and Orpington. I am a fully qualified sweep, a member of the guild of master sweeps and approved by HETAS, the industry standard for chimney sweeping.
If you live in the Kent area and need some advice on chimney care or a professional chimney sweep, call me, James the sweep on 07587 134589.
What is a chimney sweep certificate?
A chimney sweep certificate, better known as a Certificate of Chimney Sweeping, is issued by a chimney sweep to a homeowner or landlord after a chimney has been swept. It outlines what tests were carried out during the sweep and if any defects or dangers were observed. An industry standard warning notice and label will be issued for any problems highlighted during the testing and a record of the sweep will be kept for future reference.
The Guild of Master Chimney Sweeps and the National Association of Chimney Sweeps created the industry standards for chimney sweeping. As a qualified professional chimney sweep, I adhere to these standards in all areas of my work.
Guild of Master Chimney Sweeps Code of Conduct and Practice
Download the pdf from: https://www.guildofmasterchimneysweeps.co.uk/wp-content/uploads/2017/07/Code-of-Conduct.pdf
Do I need a chimney sweep certificate?
Some household insurance policies ask for proof that a chimney or appliance complies with current legislation or codes. In these circumstances a Certificate of Chimney Sweeping, provided by a qualified and accredited chimney sweep, can usually be used as evidence of compliance.
If you are a landlord then, under the law, it is your responsibility to make sure all heating systems, gas appliances, ventilation and flues are safe and work properly. However, though chimney sweeping is not specifically mentioned, for a solid fuel heating system the only way to ensure it is safe and working properly is by sweeping the chimney and servicing the appliance. So, the landlord would appear to be responsible for chimney sweeping.
If regularly sweeping is neglected, there is a high risk that the chimney may catch fire, causing considerable damage to the chimney and property. Not to mention the increased risk of harmful and poisonous carbon monoxide gas build up, which can kill. For pure peace of mind for you and your tenant you should have the chimney swept once or twice a year dependant on your particular set up, after all, it's only £60.
To book a chimney sweep, call me, James the sweep on 07587 134589.
Chimney sweeping
My standard £60 sweep includes:-
Clean dust sheets.
A chimney safety inspection.
A fire and CO risk assessment.
A chimney smoke test.
Your chimney swept with a professional chimney sweep brush set.
A HEPA filter Industrial chimney sweep vacuum.
The issuing of an official Certificate of Chimney Sweeping after the sweep.
Professional advice on chimney care and maintenance.
Find out more about my chimney cleaning services.
Chimney safety tests
As part of my chimney cleaning service, I always carry out a risk assessment. I inspects the fireplace and its surroundings. Assessing the chimney for damage and potential carbon monoxide leaks. In addition, I also examine the inside of the flue and flue liner to ensure there is no damage or blockages. After that I conduct a smoke draw test, checking the draught of air is going in the correct direction to the outside atmosphere. I can conduct other tests to identify any issues with the chimney, such as a CCTV chimney inspection. At the end of  a sweep I always advise my customers about chimney safety and the appropriate action to to be taken to rectify any problems.
The Certificate of Chimney Sweeping
After a sweep has been completed, I will issue you with a Certificate of Chimney Sweeping. This safety certificate was specifically designed by the Guild of Master Chimney Sweeps. The document is an official method of acknowledging that a sweep has been carried out and all risk assessments made to the professional industry standard.
I always advise my customers to keep the certificate safe just in case it's needed to validate an insurance claim in the future. However, with regular chimney sweeping this should not be the case.
If you have any questions about chimney care or you would like to arrange a sweep call me, James the sweep on 07587 134589.
Further information on chimney safety certificates
Here are some more links you may find useful regarding chimney safety certificates.