Pembury
Great news! James the Chimney Sweep is available to work in the Pembury, Kent, TN2 area, remember I can help you with any of the following:
James is a HETAS approved chimney sweep.
If you have any queries about chimney sweeping, or a related matter, We'd love to hear from you. Pick up the phone, email, text – whatever suits you and contact us TODAY!
Rates
You will find our rates fair and competitive. We like to be paid for the work we do, and no more than that!
Standard sweep for woodburning stoves and open fires: £60 [Price includes a full sweep, smoke test and issuing a certificate approved by the Guild of Master Chimney Sweeps].

Bird's nest removal: £100 per first hour and thereafter £60 per hour if the job is complex. *Please note the bird's nest is left with the customer for disposal.
Notes: Big discounts apply for booking multiple sweeps in the same location. Clean, fresh dust sheets are used on every sweep.
Did you know? James the Sweep is a registered member of the respected Guild of Master Sweeps.
About Pembury
Pembury is a tranquil village found near to Royal Tunbridge Wells in Kent. It is within the High Weald Area of Outstanding Natural Beauty. Pembury is a charming settlement, which depicts the joys of Kentish rural life in so many ways. Villagers are rightly proud of their local area and are dedicated to maintain its beautiful environment. The sense of community in Pembury is also enviable. There is also a busy social scene with a number of leisure clubs and societies. Pembury also has a superb range of shops and local businesses located there, as well as a hospital. The history of the village hails back to the Iron Age period. Five hamlets originally comprised the settlement: Bo-Peep, Hawkwell, Lower Green, Upper Green and Romford. These areas converged in the early 20th century. The result was Pembury as we know it today, with the added-on housing estate developments of Ridgeway, Beagles Wood, and Woodhill Park.
Pembury village is host to Pembury Hospital, which is overseen by Maidstone and Tunbridge Wells NHS Trust. It's a big, multi service and acute care hospital for serving the local area and it is located at a site on Tonbridge Road, north-west of Pembury itself. Laing O'Rourke built the hospital, costing £226 million, in September 2011 and each inpatient using the facilities has an ensuite room and massive windows with good views over the nearby countryside – a design, which is considered unique and a 'first' in hospital design for mainland Britain.
Pembury is home to a number of wonderful historic buildings, which date from the period of the 1200s right through to the 21st century. This long history is evidence of the village's influence over this rural part of western Kent. Archaeologists have also discovered evidence of an Iron Age settlement in the local area of Pembury. This is evidence that people have inhabited the region for hundreds of years. The local Pembury Village News informs the villagers about latest developments. It is published four times per year by the parish council and distributed to 2,300 homes around Pembury. The publication ranges in content, from news to features but all focused on life in the village of Pembury.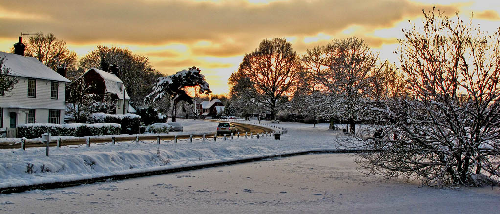 Looking for a chimney sweep in Pembury?

James the Chimney Sweep is available in Pembury and surrounding areas.
–  James The Chimney Sweep
Places near to Pembury that we also cover