5 perfect reasons to book a chimney sweep RIGHT NOW!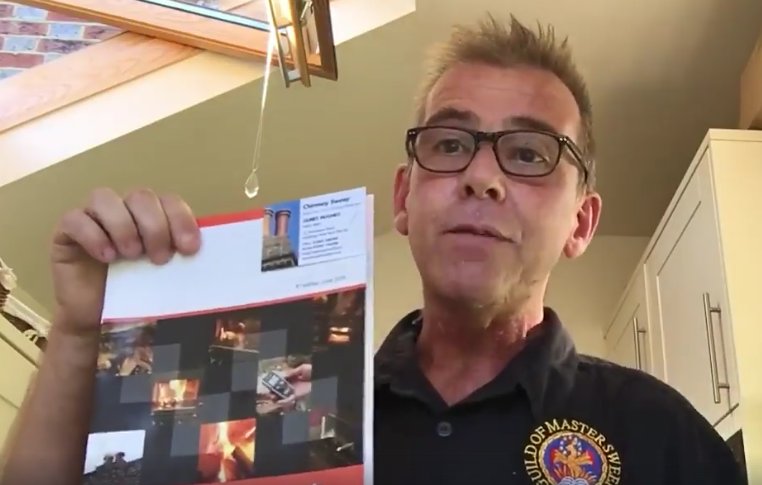 James the Sweep is the local master chimney sweep for Tunbridge Wells and nearby towns: Tonbridge, Southborough, Pembury, Hadlow, Paddock Wood, Maidstone, Sevenoaks, Orpington and Crowborough. If you need a chimney flue inspection or advice on your woodburner or other appliance – James is your go-to chimney sweep near you.
Here are five perfect reasons why it makes sense to book a chimney sweep – even in the midst of this Covid pandemic – right now:-
[1] Chimneys need sweeping at certain points in time
If you want a chimney that's safe to use – remember that flues need regular sweeping at intervals throughout the year. It's no good having the chimney swept once every three years. Even if you don't use your woodburner regularly your chimney flue requires regular inspection to ensure there is no damage to the brickwork (e.g. damp) or other problems with chimney pots or bird's nests, etc. How often do chimneys need sweeping? Find the answer here: Browse the special FAQ page created for customers by James, your local chimney sweep.
[2] Your household insurance needs to stay valid
Some household insurance is only valid if the chimney is fit for purpose, i.e. inspected and swept professionally. Check the small print of your household insurance policy to see if this applies to you. James the Sweep will sweep your chimney and issue a certificate by the Guild of Master Chimney Sweeps confirming the chimney has been swept, which you can show to your insurer. Your household insurance needs to stay valid so book a chimney sweep to retain the legality of your policy.
[3] Beat the post-pandemic rush to book
We have vaccines against Covid-19 being rolled out across the country and more and more medicines available in hospitals – the vaccine and medicine output is only going to increase in the time ahead, i.e. this pandemic won't last forever. And what will people be doing when the pandemic ends? Getting life back on track, which includes works in the house. Beat the post-pandemic rush to book chimney sweeping appointments. Get a future date in the diary NOW to give you peace of mind. James is still working. Talk to him today about your chimney.
[4] Save money
We are currenly facing difficult financial times because of the Covid pandemic. That's a bit of an understatement. Your woodburner or related appliance provides warmth in the home, which is physically and psychologically needed when it gets cold. James the Sweep charges only £60 for a standard sweep of wood burning stoves and open fires (discounts for many chimneys in one location). That price is for the full sweep, fire safety risk assessment, chimney smoke test and also a Guild of Master Chimney Sweep certificate, which is helpful [as above] to validate household insurance. Bird's nests at the top of chimneys are dangerous and can ruin your chimney structure. James will get rid of the nest for only £100 for the first hour and then £60ph if appropriate, depending on how complicated the remedial work is, that is required.
[5] Protect your family
There's surely no better reason to book a chimney sweep than to protect your loved ones, especially children, vulnerable adults and elderly people with health problems – who may not be fully aware of fire safety. Chimney sweeping deters the lethal risk of carbon monoxide poisoning and uncontrolled chimney fires. To put it simply, chimney sweeping prevents your loved ones suffering serous injuries or death. That's why fire services such as Kent Fire & Rescue Service strongly recommend that residents book chimney sweeping appointments with chimney sweeps and flue technicians such as James the Sweep.
It's easy to book a chimney sweep with James the Sweep – your local master sweep. Phone or email James today and make an appointment.