HETAS approved Master Chimney sweep - Rotherfield, East Sussex, TN6
My chimney cleaning services in Rotherfield
Chimney cleaning in Rotherfield
I charge £60 for a standard brush sweep for a wood burner or open fire. This chimney cleaning price includes the full chimney sweep, the fire and CO risk assessment, a chimney smoke test and an official Certificate of Chimney Sweeping useful for household insurance.
I am licensed and insured to sweep all kinds of chimneys, flues fireplaces and stoves. This includes Aga flues, Multi fuel stoves, Jetmaster fire, Rayburn, Inglenook, Parkray, Gas Fire and Oil Fired Boilers.
Bird nest removal in Rotherfield
I charge £100 for the first hour of work and then £60 per hour after that if the job is particularly complicated. Please note that the bird's nest is always left with the householder for disposal.
CCTV chimney inspection in Rotherfield
I charge £60 for a sweep (which must be conducted before the inspection) and £100 for a chimney inspection. If you have any worries about using your solid fuel appliance or open fire you should get a CCTV chimney inspection from a qualified chimney sweep.
A chimney sweep hoover is used as standard with every sweep
During my standard £60 sweep I use a HEPA filter chimney sweep vacuum to make sure no soot and ash particles escape into your home.
A chimney sweep certificate issued with every sweep
Whenever I conduct a sweep in Rotherfield, I always provide the householder with an official, Certificate of Chimney Sweeping. This indicates that a sweep has been conducted to the Guild of Master Chimney Sweeps industry standard and can be used for household insurance purposes.
Chimney cowls, chimney pots and chimney guards
I advise clients in Rotherfield about what type and what size chimney cowl, pot or guard will best suit their fire setup. Due to health and safety issues, I do not fit chimney cowls, pots or guards myself. I arrange fitting with my trusted colleagues who do an excellent job of installation for my clients.
If you have any questions about chimney sweeping or chimney care, I would love to hear from you. Call me on 07587 134589 today.
About Rotherfield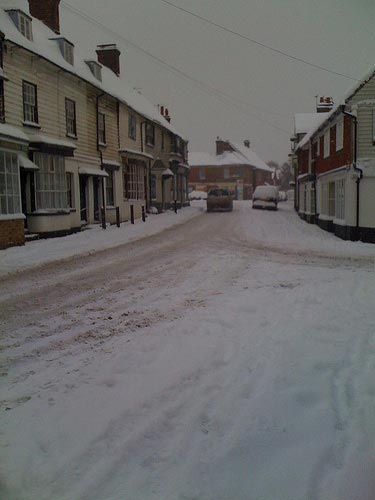 Rotherfield
Rotherfield is a parish founded just to the south of Royal Tunbridge Wells and within the High Weald area. James the Sweep is honoured to be the Master Sweep for Rotherfield, looking after chimneys for residents in the delightful residential area. Rotherfield is also in an area of outstanding natural beauty with a site of special scientific interest, Bream Wood, which has moss and fern considered to be unique. An amenity space was set up in the year 2000, called Rotherfield Millennium Green, for the purposes of creating a green breathing space for residents. A number of villagers flank the site, which has a pond, heritage, orchard and formal area. Wildlife are also attracted to the site, thanks to the painstaking work of volunteers. Rotherfield itself is a conservation site because of the high standard of architecture, such as St Denys Church, which is Grade One listed.
It's a surreal but true fact that Lisa Marie Presley, daughter of Elvis Presley, chose to live in Rotherfield rather than Los Angeles with her family. Lisa Marie Presley moved to Coe's Hall, familiar to James the Sweep who knows all the homes (and their chimneys!) in Rotherfield, in 2010. And quite right too (no offence to Los Angeles!) because it's a stunner of a village location. Plenty of chimneys to sweep there!
The residential area of Rotherfield is in fact comprised of three parishes: Rotherfield, Eridge and Mark's Cross with the River Rother as a background setting. Pub hunters will find plenty to entertain: the King's Arms and Catts Inn, in Rotherfield; the Nevill Crest and Gun, and Huntsman in Eridge; and the Mark Cross Inn, in Mark Cross (obviously). James the Sweep cleans chimneys in all of these areas!
Rotherfield and Mark Cross Bonfire Society organise the popular carnival night on the first Saturday each October involving a torchlight procession with other Sussex bonfire societies.