Rotherfield
Great news! James the Chimney Sweep is available to work in the Rotherfield, East Sussex, TN6 area, remember I can help you with any of the following:
James is a HETAS approved chimney sweep.
If you have any queries about chimney sweeping, or a related matter, We'd love to hear from you. Pick up the phone, email, text – whatever suits you and contact us TODAY!
Rates
You will find our rates fair and competitive. We like to be paid for the work we do, and no more than that!
Standard sweep for woodburning stoves and open fires: £60 [Price includes a full sweep, smoke test and issuing a certificate approved by the Guild of Master Chimney Sweeps].

Bird's nest removal: £100 per first hour and thereafter £60 per hour if the job is complex. *Please note the bird's nest is left with the customer for disposal.
Notes: Big discounts apply for booking multiple sweeps in the same location. Clean, fresh dust sheets are used on every sweep.
Did you know? James the Sweep is a registered member of the respected Guild of Master Sweeps.
About Rotherfield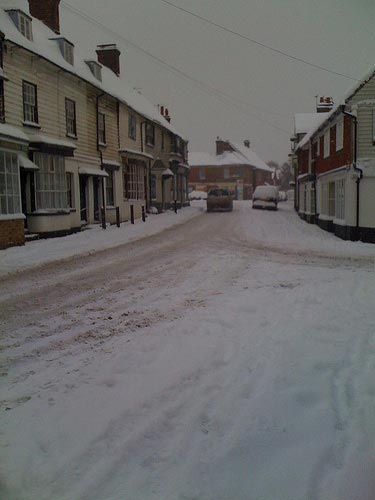 Rotherfield
Rotherfield is a parish founded just to the south of Royal Tunbridge Wells and within the High Weald area. James the Sweep is honoured to be the Master Sweep for Rotherfield, looking after chimneys for residents in the delightful residential area. Rotherfield is also in an area of outstanding natural beauty with a site of special scientific interest, Bream Wood, which has moss and fern considered to be unique. An amenity space was set up in the year 2000, called Rotherfield Millennium Green, for the purposes of creating a green breathing space for residents. A number of villagers flank the site, which has a pond, heritage, orchard and formal area. Wildlife are also attracted to the site, thanks to the painstaking work of volunteers. Rotherfield itself is a conservation site because of the high standard of architecture, such as St Denys Church, which is Grade One listed.
It's a surreal but true fact that Lisa Marie Presley, daughter of Elvis Presley, chose to live in Rotherfield rather than Los Angeles with her family. Lisa Marie Presley moved to Coe's Hall, familiar to James the Sweep who knows all the homes (and their chimneys!) in Rotherfield, in 2010. And quite right too (no offence to Los Angeles!) because it's a stunner of a village location. Plenty of chimneys to sweep there!
The residential area of Rotherfield is in fact comprised of three parishes: Rotherfield, Eridge and Mark's Cross with the River Rother as a background setting. Pub hunters will find plenty to entertain: the King's Arms and Catts Inn, in Rotherfield; the Nevill Crest and Gun, and Huntsman in Eridge; and the Mark Cross Inn, in Mark Cross (obviously). James the Sweep cleans chimneys in all of these areas!
Rotherfield and Mark Cross Bonfire Society organise the popular carnival night on the first Saturday each October involving a torchlight procession with other Sussex bonfire societies.