Edenbridge
Great news! James the Chimney Sweep is available to work in the Edenbridge, Kent, TN8 area, remember I can help you with any of the following:
James is a HETAS approved chimney sweep.
If you have any queries about chimney sweeping, or a related matter, We'd love to hear from you. Pick up the phone, email, text – whatever suits you and contact us TODAY!
Rates
You will find our rates fair and competitive. We like to be paid for the work we do, and no more than that!
Standard sweep for woodburning stoves and open fires: £60 [Price includes a full sweep, smoke test and issuing a certificate approved by the Guild of Master Chimney Sweeps].

Bird's nest removal: £100 per first hour and thereafter £60 per hour if the job is complex. *Please note the bird's nest is left with the customer for disposal.
Notes: Big discounts apply for booking multiple sweeps in the same location. Clean, fresh dust sheets are used on every sweep.
Did you know? James the Sweep is a registered member of the respected Guild of Master Sweeps.
About Edenbridge
Edenbridge is a pleasant town, also a civil parish, which is located within the district of Sevenoaks, Kent. The history of the settlement stretches back centuries and the meaning of the town's name is derived from Old English, 'Eadhelmsbrigge', which means 'Eadhelm's Bridge'. There is also a strong connotation with the nearby River Eden. Residents were originally living in the area by the now-disused Roman road, that is within the route of the London to Lewes Way. Wealden's iron industry, which was so crucial to economic prosperity in the region during the Middle Ages, played a major role in the development of Edenbridge. The town was also built-up as a result of its four mills, known as the southern mill, Christmas Mill, Honour's Mill and Naxted Mill – all no longer working, and also the arrival of the railway, which has helped commuters.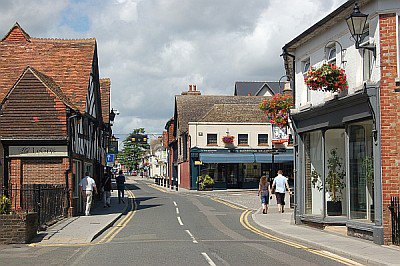 Looking for a chimney sweep in Edenbridge? James the chimney sweep covers the whole of Edenbridge and the surrounding area.
Places near to Edenbridge that we also cover