Westerham
Great news! James the Chimney Sweep is available to work in the Westerham, Kent, TN16 area, remember I can help you with any of the following:
James is a HETAS approved chimney sweep.
If you have any queries about chimney sweeping, or a related matter, We'd love to hear from you. Pick up the phone, email, text – whatever suits you and contact us TODAY!
Rates
You will find our rates fair and competitive. We like to be paid for the work we do, and no more than that!
Standard sweep for woodburning stoves and open fires: £60 [Price includes a full sweep, smoke test and issuing a certificate approved by the Guild of Master Chimney Sweeps].

Bird's nest removal: £100 per first hour and thereafter £60 per hour if the job is complex. *Please note the bird's nest is left with the customer for disposal.
Notes: Big discounts apply for booking multiple sweeps in the same location. Clean, fresh dust sheets are used on every sweep.
Did you know? James the Sweep is a registered member of the respected Guild of Master Sweeps.
About Westerham
Westerham is five miles west of Sevenoaks and is also a civil parish, all within Kent. There is evidence of Roman and Celtic settlements in the Westerham area and the town is noted in the Domesday Book as 'Oistreham' – with a Norman connotation. Westerham was where the inspiration behind Lewis Carroll's Alice in Wonderland, Alice Liddell, lived at the Vicarage. She spent her last days with her sister Rhoda at Hoseyrigge in Westerham. The town also has Chartwell Manor, former residence of Winston Churchill, on the outskirts, which is now in the care of the National Trust. Westerham boasts other points of historical interest. John Lennon, from the Beatles, once bought a poster of Pablo Fanque's Circus Royal from an antiques shop in the town, which is believed to be the inspiration for the 'Being for the benefit of Mr Kite' song. The founders of BBC Children's TV, Maria Bird and Freda Lingstrom, lived in Westerham.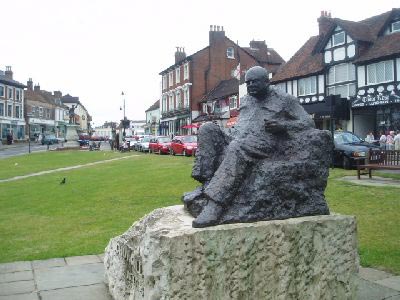 Looking for a chimney sweep in Westerham?
James the Chimney Sweep is available in Westerham and surrounding areas.