Book a sweep in time for Christmas!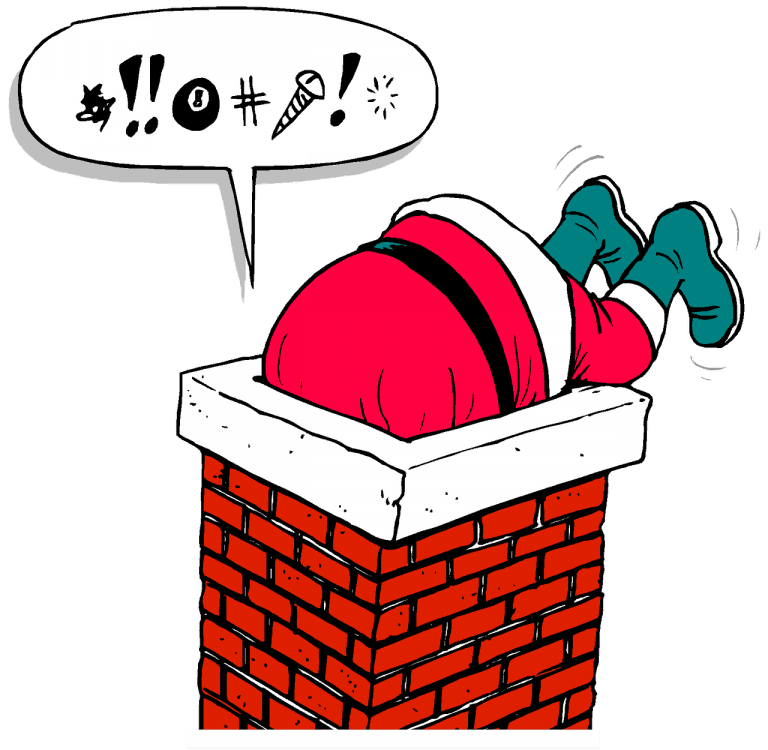 Is it too early to mention the word, 'Christmas'? Whoooops… slip of the brush. Why would we be talking about Santa Claus when we're still trying our best to lap up the last few weeks of summer; enjoying ice creams when we can, heading to the beach and trying to ignore the fact that the Autumn term starts very soon, the kids are back at school – and colder weather is on the horizon.
And we all know what that means. The sight of those brown and yellow leaves scattered across the beautiful lawns and parks of Kent – from Tunbridge Wells across to Maidstone – indicates the seasons are a' changing. If there's one thing that's sure about Autumn too, it's that Winter is not far behind!
So, if you are trying to make the most out of your last days in the summer and getting the uniforms ready for the term ahead, spare a thought. It's just a single thought: about Mr Claus esq. mentioned above. How can the merry red gent manage to fit down your chimney when the famous December 25 date arrives, if it s clogged up with thick, mucky, dirty soot? And how – just HOW – can you enjoy a proper fire indoors, if your chimney has not been swept properly in time?
In the words of Delboy, 'you know it makes sense'. There's not a great deal of time left before Christmas arrives. So get your diary out now and book a chimney sweep with James the Sweep, the Master Sweep for Tunbridge Wells and nearby areas (tel: 07587 134589). Don't forget too that it's not just the festive season when you'll need to use your indoor fire. Autumn will bring it a chilly air and it's wise to prepare for that now. Get your chimney in fine working order for the fire burning season. Enjoy peace of mind so that you can focus on other things. Arrange a chimney sweeping appointment with James and get reassurance that you are protecting your household from the risk of carbon monoxide poisoning from your indoor fire and the chance of uncontrolled chimney fires.
James the Sweep is THE chimney sweep for residents in Tunbridge Wells, Southborough, Tonbridge, Maidstone, Crowborough, Pembury, Paddock Wood, Sevenoaks and areas inbetween. He is a professional in the trade and a standard sweep costs just £60. Why not contact James today and ask his opinion about your indoor fire set-up?