Don't miss out on St Nick and James the Sweep!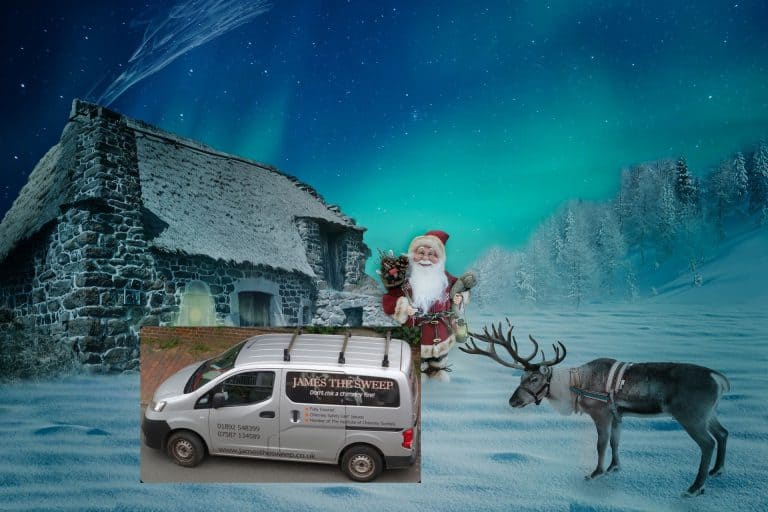 Jingle bells are around the corner and it's nearly Christmas – and you know what that means?!
It means that your woodburner or open fire will be working hard (if it isn't already) burning brightly throughout the festive season as you celebrate Christ's birth with family and friends. 
The good news is that if you've forgotten to have your chimney swept in time, it's not too late! Book an appointment with James on 07587 134589. – Do it right now! Keep safe from chimney fires and carbon monoxide poisoning. 
And let's not forget that the colder period, when you need to use your indoor fire, goes far beyond December 25… or even New Year celebrations.
You are going to need a safe indoor fire right through 2020 and that's why it makes sense to schedule diary appointments NOW with your local sweep: James. Make sure your chimney is in fine working order not just in the winter months but ready for use whenever there is a cold spell.
Talking (or rather writing) about Christmas, did you know about the interesting historical literary link between chimneys and the merry red (or green) gent: Santa Claus? If not, get a tea or coffee (or something stronger), put aside some time and enjoy reading this… 
St Nicholas, the real life man behind the cultural character of Santa, was the Bishop of Myra in a large part of the fourth century. He was also the patron saint of children and it is said that he used to place money through the window of a house to help a poor family known to him. Their daughters faced prostitution. The story of the bishop's kindness spread and evolved in time to see St Nick dropping money down chimneys. Dutch youngsters started to put shoes by the indoor fire, so that presents and sweets could be put in the shoes. This soon became a core part of the Feast of St Nicholas and Dutch emigrants took it to the New World: the USA. 
The whole idea of Father Christmas as a jolly chap first came from an American writer, Washington Irving. He created a satire called 'Knickerbocker's History of Amsterdam' in 1809 which made fun at Dutch immigrants living in New Amsterdam. He was taking a poke at the over-the-top focus on Dutch culture in the city. That's why he depicted St Nicholas as a Dutch burgher, akin to an elf with a pipe in his mouth. Washington called his version of St Nicholas, 'Sinterklaas' -who, of course, later developed in the literary and cultural tradition (in the USA) as Santa Claus.  
'…in the sylvan days of New Amsterdam the good St. Nicholas would often make his appearance in his beloved city of a holiday afternoon, riding jollily among the tree tops or over the roofs of the houses, now and then drawing forth magnificent presents from his breeches pockets and dropping them down the chimneys of his favorites'.
As the legend developed, the notion of Santa climbing down the chimney came from a poem by Prof Clement Clark Moore in 1823, called, 'A Visit from St Nicholas'. Cartoonist Thomas Nast gave Santa his reindeer and sleigh. He was also drawn as a merry, large gentleman.
There have been other mythical creatures created around Christmas time. Zwarte Piet, in Belgium and Holland, for example, used the chimney to leave gifts in stockings but he was a darker character than Santa. 
Anyway… apart from Santa Claus, the other merry gentleman wanting to get inside your chimney this Christmas is…. the county of Kent's favourite chimney sweep: James the Sweep. Please don't miss the opportunity of booking a sweep with James. Contact him today!