'Get your chimney swept' – warning issued by Kent Fire & Rescue Service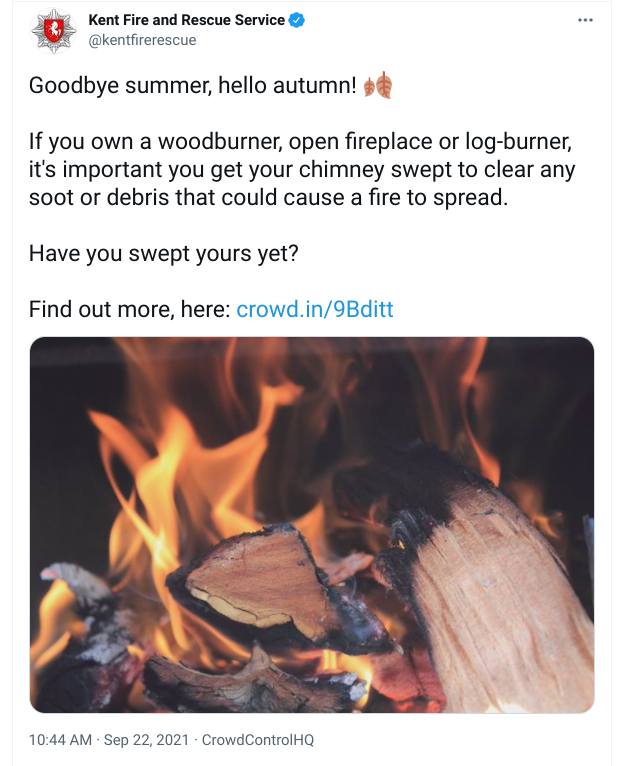 Kent Fire & Rescue Service, saving lives in Tunbridge Wells, Southborough, Tonbridge and other areas of the county, has called on residents to get their chimney swept now that the colder season has arrived.
On Twitter, Kent firefighters [as above] said that, 'If you own a woodburner, open fireplace or log-burner, it's important that you get your chimney swept to clear any soot or debris that could cause a fire to spread'.
The fire rescue service has previously said that dirty chimneys 'can cause fire, endangering life and property. Regularly sweeping and inspecting of chimneys can help prevent blockages, tar build up which can catch alight, smoke leaks, ventilation problems and more. If you use an open fire, a wood/log burning stove, Aga or other 'real flame' appliance, regular sweeping and checking can help protect your chimneys and your family'.
As the master chimney sweep for T Wells, I fully support this statement by our hardworking local fire service. Readers of my blogs and social media pages will know that I constantly invite residents to book chimney sweeping appointments for the safety of their household. This could be seen as acting in my own interests (I do run a chimney sweeping business), and yes, I earn a living from chimney sweeping, just as a firefighter earns a living by tackling fires. Yet we share a unified vision to see residents in the county kept safe from the risks of fire and fully informed about fire safety. We care passionately about the welfare of consumers living in the local area.
That is why I say to both residents and businesses, PLEASE book a chimney sweeping appointment. It is so important to keep yourselves safe whilst enjoying your woodburner, gas fire or open fire. Safe from the risks of carbon monoxide poisoning or chimney fires. The NHS is under pressure like never before, because of the effects of the covid pandemic. Please don't put extra pressure on hospital services – being rushed to A&E with CO poisoning is entirely preventable. On that note, do take care with your fireplace. Make sure there's nothing flammable nearby and vulnerable people including children are supervised. Let's make sure we don't take unnecessary risks. Doctors and nurses have got better things to focus on right now!
That said, indoor fires are thoroughly enjoyable when controlled safely in the right environment. They provide low cost warmth, visual appeal, an environmentally friendly source of heat and a cheerful focus for your home in the chilly times ahead. Nothing beats the glow of a woodburner fuelled safely with dry wood, burning at a high rate and giving warmth and comfort to your home.
07587 134589 – call that number now to book your chimney sweeping appointment (£60) if you live in Tunbridge Wells, Tonbridge, Southborough, Maidstone, Sevenoaks, Pembury, Paddock Wood, Orpington, and Crowborough.