Remembering Maidstone's ace pilot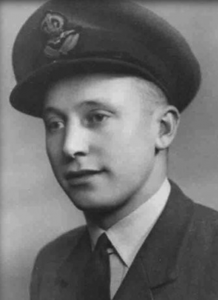 It sounds like a respectable place for work, and it is – Corbin Business Park in Bearsted near Maidstone. James the Sweep is certainly familiar with the location, travelling past numerous times in his van, on the way to sweep the next chimney.
It's easy to skip over the 'Corbin' part and not understand the significance. Corbin Business Park was named after a heroic wartime pilot from Maidstone, who was granted the freedom of the borough: Jimmy Corbin. His hard work as one of the 'few' fighting the Luftwaffe in the Battle of Britain helped to save the nation.
A former pupil at St Michael's School in Maidstone, Jimmy died in December 2012 after a post-war career in teaching at Collier Road School, and later Maidstone Technical School.  Jimmy's work as a pilot for the RAF was noted in a famous book published during the war (1942): 'Ten Fighter Boys'. A year later, he earned a commission and was awarded the Distinguished Flying Cross (DFC).
Jimmy flew on missions in France and northern Africa. His flying prowess had a devastating effect against the Germans, and it is believed that he brought down at least five aeroplanes, lorries and even a motor torpedo boat. He achieved the status of Flight Lieutenant by the time the war ended but still kept his hand in – he joined the RAFVR from 1948 to 1952.
Jimmy had only 29 hours flying experience with Spitfires when he was first brought to RAF Kenley in August 1940, fresh from practising firing guns at sandbanks in the Dee Estuary, Chester. He was the second oldest in 66 Squadron at the time. Squadron Leader Rupert Leigh, his commanding officer, sent him to get more experience in the North of England.
Jimmy later said this saved his life, allowing him to get more flying experience before facing the Luftwaffe. It was indeed a wise decision. His squadron flew at least four times per day, taking on the enemy. Jimmy said he would fire if he had the opportunity and he described the mayhem from diving into German aeroplanes. It was hard to work out who would survive these dogfights, according to the Maidstone ace pilot, and sharp skills were needed to keep alive.
A particular event saw Maidstone receive a special salute by Jimmy and his fellow pilots when they did a 'beat up' over the town, on their way back from fighting the Germans. Some 18 Spitfires went overhead but the town had just been bombed and residents were disturbed by the flypast.
Jimmy completed an impressive 553 operational hours in the air during his wartime experience.  So there you go – Corbin Business Park. A name linked not just to modern trade but originating in a man who was truly one of Maidstone's bravest sons.
[Photo source: The Battle of Britain Memorial Trust]