What is James the Sweep doing at the moment?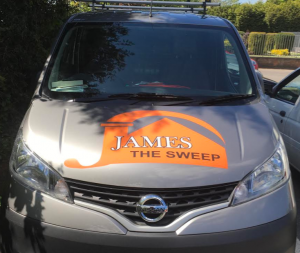 WHERE is James the Sweep – Master Chimney Sweep for Tunbridge Wells and nearby areas of Kent?
Meaning – where is he right now? Regular customers of James the Sweep will know the affectionate name given to his work van: 'Sweepy'. And there have been reports that Sweepy has been spotted sweeping past various locations across the county: Tonbridge, Maidstone and the like. If you had an interactive map of Kent and James was fitted with a tracking device, you'd see Sweepy popping up in Pembury one day and then Orpington the next… it's hard to keep up with him, at this time of year. 
The truth is that we're now in the 'busy season' for chimney sweeps and James is working hard sweeping chimneys, keeping people safe from the risks of carbon monoxide poisoning and uncontrolled chimney fires. He knows that people want to use their indoor fires and the chimneys need to be safe to use. That's why he's going full throttle, looking after as many people as possible. 
That's also why if you need your chimney swept at some point in November, December… January, etc – NOW really is the time to pick up your phone and call James to book-in an appointment. If the phone goes through to a voicemail, don't worry. It just means that James is sweeping a chimney flue but he will respond to your message ASAP and book in the chimney sweeping appointment with you.
James is busy for a very good reason – customers rate him as the region's top chimney sweep. He has years of experience and reviews testify to the professional services he gives to householders and local businesses. 
If you're someone who likes to keep very organised: don't forget that your chimney needs looking after all-year round. Why not get your 2020 diary ready and phone James to book ahead? Give yourself peace of mind that your chimney is being professionally looked after all the time.
Then you won't have to worry. You can sit back with family and friends, enjoying your indoor fire: celebrating birthdays, Bonfire Night, Christmas, New Year… safe in the knowledge that there is no soot blocking your chimney flue or damage to the chimney structure, which has not been remedied. 
Book a chimney sweep with James the Sweep now on 07587 134589.